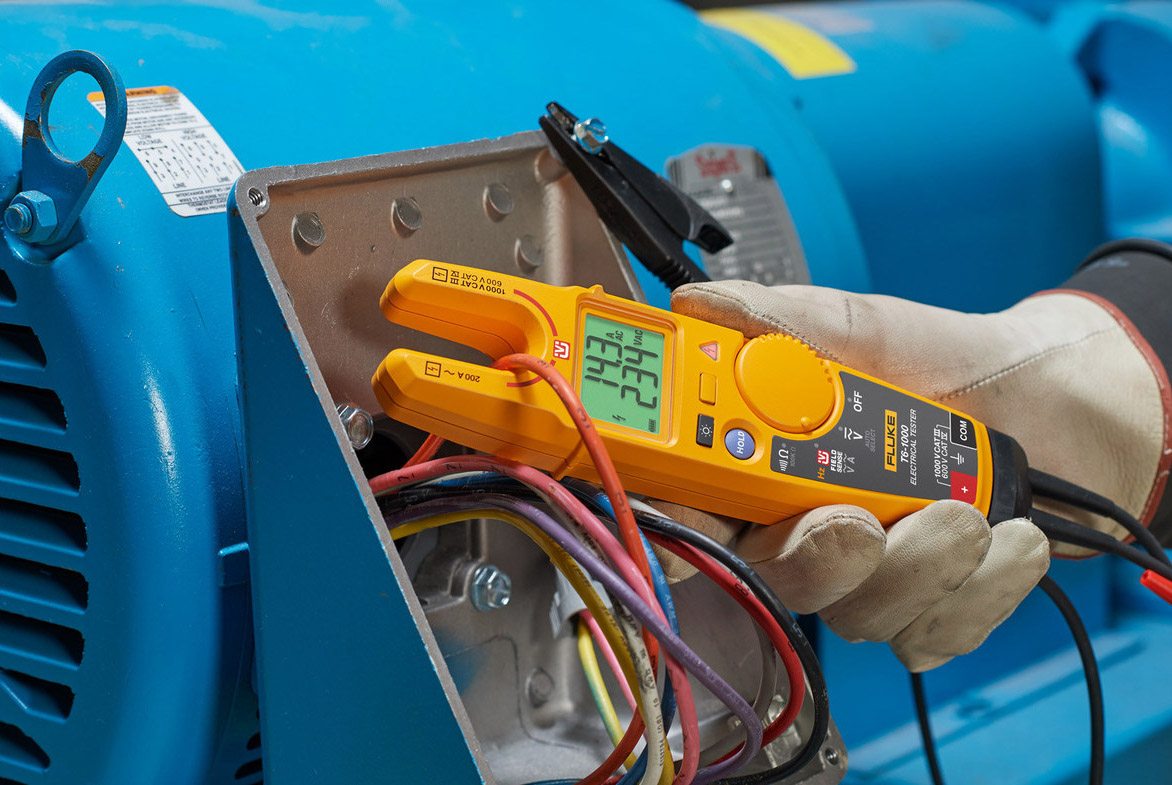 Working in electrical boxes jammed with wires can be challenging when you're trying to find a safe metallic contact point, but Fluke's FieldSense technology makes it possible to quickly and easily measure voltage without test leads.
Cue the T6 Electrical Tester.
How the T6 works: Measure voltage without test leads
While other open-fork testers detect a magnetic field to show AC current, FieldSense technology detects an electrical field. This field interacts with a reference signal created by the T6 tester, creating a voltage value on the tester's display.
When the open fork is placed over a live conductor, the AC voltage interacts with the reference signal. The T6 Tester then calculates the AC voltage. Watch the video.
[youtube https://www.youtube.com/watch?v=kHNM-_uaNr4?start=5&w=400&h=225]
There are two ways to make FieldSense measurements:
The first method is ideal when PPE requirements are minimal and gloves are not required. For this method, securely dock both test leads, ensuring the black lead is pressed all the way forward. Be sure to maintain continual contact with the FieldSense ground contact. Insert the open fork around the AC conductor, making sure the conductor reaches the bottom of the fork.
The second measurement method should be used when gloves are required, when the user is standing on a ladder, or when the user is otherwise insulated from ground. Take the black lead from the T6 and make contact with a good ground. Slide the open fork over the conductor, so it reaches the bottom of the fork.
Either method will give you a reliable AC voltage reading, through the conductor's insulation and without touching a live conductor. After putting on the appropriate safety equipment, touch the test leads to the live test points. With FieldSense, you'll get a consistent measurement without heavy gloves, and without touching a live conductor.
Click here for a quick T6 reference guide.
You can also check out this helpful T6 case study video from a cutting-edge cancer research center. The video talks about how the T6 is compact and portable. You'll improve productivity and safety by:
Being able to measure amperage and voltage simultaneously.
Making troubleshooting quick and easy.
Using FieldSense to protect against arc flashes. (You'll avoid danger by being able to see what voltage is present without having to open the panel.)
[youtube https://www.youtube.com/watch?v=FwiWLehjNYM?start=5&w=400&h=225]
4 reasons the T6 belongs in your toolbelt
Be safer: Measure voltage to 1000 V AC through the open fork, without test leads.
Be faster: No need to open covers or remove wire nuts.
Be more efficient: Simultaneously measure voltage and current.
Be everywhere:8 mm open fork is widest in the industry; measure up to 200 A on 4/0 wires (120 mm2).
More product highlights
FieldSense technology for AC voltage, current and frequency measurement without making electrical contact to live voltage.
Simultaneous voltage and current display showing all power supply measurements at a glance for efficient troubleshooting.
1-1000 V AC or DC (T6-1000)
0-200 A AC
True-RMS voltage and current
Resistance 1 Ω to 100 kΩ
Frequency measurement 45 Hz to 66 Hz
Works with wires up to AWG 4/0 (120 mm2) with a 17.8 mm jaw opening.
HOLD button temporarily freezes the reading for easy viewing.
Easy-to-read display with backlight.
Accepts optional Fluke TPAK Magnetic Meter Hanger for convenient operation.
Standard two-year warranty; extendable to four years through product registration within 45 days of purchase.
Important tips to remember when using FieldSense technology
Do not hold or touch wire you are testing during a measurement. Use the black probe to make the ground connection if:
Wearing gloves or insulated footwear.
Standing on an insulated ladder.
Additional ground contact is required for the application.
This blog post was drafted in partnership with Fluke Corporation. Learn more about the Fluke T6 Electrical Tester.
Related posts
Vibration sensors detect faults, minimize equipment downtime
Infrared preventive maintenance monitors critical equipment temperature